Over 40 Years Of Fishing Experience To Help You
Bookings currently suspended until Sept 2022. New boat on the way
Run by Mal, a qualified charter operator, who is passionate about fishing and brings a positive attitude to his charters. His customers describe the experience as fun, friendly and enjoyable. Years of experience means Mal can bring you to the best fishing spots. He is happy to help beginner through to experienced anglers. (see reviews)
Take Me Straight To The Charters (Use buttons below)
Victoria's Best Fishing Spots!
Melbourne Fishing Charters
Our fishing charters target assorted species in Port Phillip Bay, Western Port Bay, Bass Strait and Portland fishing grounds. The local Melbourne fishing charters are typically 5 to 6 hours in length, whilst offshore charter in Bass Straight are typically 7 – 8 hours in length. One of the unique differences with an I'm Hooked Fishing Charter is the fun that Mal brings to the trip. Mal is known for bringing a smile and making the trip and enjoyable experience. From the innexperienced angler through to the seasoned fisho, Mal's local knowledge and experience is what can transform a day into a memorable experience. Want to see how much fun people have? View the gallery by clicking the button below.
Fishing Charters Port Phillip Bay
Port Philip Bay is Victoria's largest body of water and the state's most popular recreational fishing ground which has a reputation for turning on some great fishing for snapper, flathead, King George whiting, garfish and squid.
Fishing Charters Western Port Bay
Western Port Bay is a smaller bay than Port Phillip Bay on the other side of the Mornington Peninsula, featuring two large islands, French and Phillip. There are three main areas of fishing; the northern, eastern and western arms. It offers great fishing with whiting, squid and snapper with the occasional gummy shark.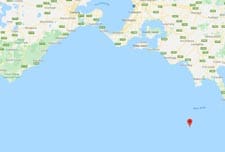 Fishing Charters Bass Straight
Bass Strait, a channel separating Victoria from Tasmania has a maximum width of 240 km and its depth is 50–70 m and named in 1798 after surgeon-explorer George Bass. There is great fishing for Mako Sharks, Flathead, Snapper, Whiting and Gummy Sharks.
Fishing Charters Portland
As one of Victoria's fishing hot spots, the fertile seas in Portland and along the Discovery Coast offer a wealth of opportunities for keen fishers. There are two boat ramp launching sites in the harbour. Near the Yacht Club there are two ramps and 4 lanes in total.  It's a wonderful fishing ground for Tuna & Sharks.
Still not convinced that I'm Hooked Fishing Charters is the best value fishing charter in Melbourne? Why not check out Mal's new super comfortable fishing charter boat by click on the button below.
Fishing Charters
More options available on Bookings page
Fishing Charters Mornington Peninsula
Min. 5 people. Max 9 people.
Snapper or Whiting Charters
Up to 5hr $165 PER Person
Also available:
Reel Ocean Adventures
Kingfish, Wrasse, Gummy Shark, Tuna Charters
* See Offshore Fishing Charters OR Book the Boat
Fishing charters available in Port Philip & Western Port Bays & offshore.
Are you looking for a genuine fishing trip with an experienced guide? Grab some friends and make a booking at let Mal guide you to the hottest spots!
We had a really lovely day out fishing with Mal! He was friendly, accommodating and helpful as some of us were beginners. Highly recommend I'm Hooked Fishing Charters!
Ron Morison
14. March, 2022.
Absolute ripper day out on port Phillip today, snapper right off the first mark, Mal was the perfect host for our family making sure we all hooked up and had a great day out. Highly recommend I'm hooked!
Jordan Born
7. March, 2022.
This charter lives up to its reputation. Our catch for the day was a mix of 25- Gummy Shark, Banjo Shark, Snapper, Whiting, Australian Salmon, .Trevally. Mal is extremely knowledgeable. Best charter I've experienced in Victoria.
Jeffrey Mountain
5. March, 2022.
Fantastic trip! Great charter!
Nathan King
4. March, 2022.
Booked a last minute charter for myself and 4 others with Mal yesterday and had an amazing time. We were catching perfect eating size pinkies with in minutes of pulling up at the first spot and even managed to land a 25kg+ gummy shark! The boat had plenty of room to accomodate even more people should there have been any and was kept extremely tidy. Mal was a professional charter guide that was knowledgeable and easy to get along with. Overall the experience exceeded our already high expectations and we would all happily book again in future 🙂
Hamish Kumar
5. February, 2022.
Brando The Pig
31. January, 2022.
Great day out and saw the biggest snapper I've ever seen caught in the bay while on charter. The boat was spacious with well equipped tech to find the fish. Skipper Mal also brought the laughs and made sure everyone had a good time. Our boat ended up with 7 snapper (the bigger ones were giants) and 3 flatties that were keepers + more that were thrown back. Really recommend if you are keen to go on a charter in the bay
Andrea Findlay
26. January, 2022.
Booked a charter for my sons birthday and what a sensational day. Mal is a legend and really knew his stuff. After a slow start, he found the perfect spot and the fish flowed. Snapper, Mackrel, Flatties & Whiting. Highly recommend "I'm Hooked", will DEFINITELY be back!! 👍🏻🐟
Lisa Hickey
29. December, 2021.
We booked a charter with Mal for a work breakup. Everyone really enjoyed the day. Would book again. 5 stars.
Stefan Hansen
17. December, 2021.
Great time with Mal. Plenty of good fish to take home, top bloke. Will be using again for sure.
Snapper, Whiting & Calamari Fishing Charters
Season: All year. Mixed Fishing charters commence from January 1st through to 31st August. We fish according to which fish are biting at the time to try and make sure you bring home a good catch.
Prices start from $165 p.p.
Snapper Fishing
Charters
Season: August to April. Our Snapper dedicated season is September to December. The main snapper fishing season begins in August (offshore), or in September in the bays (Western Port and Port Phillip), but snapper can be caught in winter. Outside of the dedicated Snapper season, please use our mixed charter option below. For more info read here
Prices start from $165 p.p.
Whiting Fishing
Charters
Season: Traditionally it is considered December to April. However, you can catch King George whiting all year round in our local waters within Western Port Bay and Port Phillip Bay. For more info read here
Prices start from $165 p.p.
Tuna Fishing Charters
Season: In Victoria, outside the heads of Port Phillip Bay, the season is February to May. When departing from Portland, Victoria, the season is June to August. Tuna Fishing charters commence from January 18th. For more info read here
Prices start from $300 p.p.
Kingfish Fishing Charters
Season: January to April. The main kingfish fishing season begins in January either in or outside the heads on Port Phillip Bay and Westernport Bays. Kingfish Fishing charters commence from January 18th. For more info read here
Prices start from $300 p.p.
Exciting Catches Captured On Video