When is snapper fishing season?
A: August to April. The main snapper fishing season begins in August (offshore), or in September in the bays (Western Port and Port Phillip), but snapper can be caught in winter.
What is the minimum legal size of a snapper you can keep?
What is the bag limit?
A: 10 per angler and no more than 3 fish over 40cm in length
Can I fillet my fish on the boat?
A: These fish can't be filleted in or on Victorian waters. They must be kept whole or in carcass form until you're away from the water. It's okay to fillet your fish on the cleaning tables at the boat ramp.
What is the scientific name of a snapper?
How To Catch Snapper
How To Catch Snapper – Pre Season
Snapper can be caught on the offshore reefs in August which is a great way to catch the early season fish, before they come into Western Port Bay and Port Phillip Bay. Heading offshore for these amazing fish, we launch from Stony point and head out past Flinders into Bass Strait to find some fantastic rubble grounds and reefs to catch these beauties. By booking an offshore day charter with the right weather conditions, early fishing snapper fun can be had. We then run 5hr Charters through September for early season snapper Port Phillip Bay.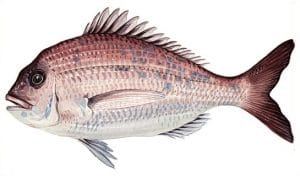 How To Catch Snapper – Early Season
Snapper Season Westernport Bay
September is when we really begin catching Snapper. Early season snapper inside Western Port and Port Phillip Bays begins in September. The key is to know where and why they are there. A lot of people have trouble finding these early season fish which are usually of a larger size than the snapper you find through October to December. AFL Grand final day (late September) is the usual kickoff day for so many anglers and you can find early season snapper Western Port Bay up to 10kg.
Why do snapper move into Port Phillip and Western Port Bay in September? The answer is to spawn.
How To Catch Snapper – In Season
Snapper Season Port Phillip Bay
By October to November, they have made their way right around Port Phillip Bay up to St Kilda and Williamstown. This is the peak period. This is the best time to catch Snapper in Port Phillip Bay. Where the water warms up and the fish go extremely well and hard, you get to see rods buckling over and lines screaming of reels and having multiple hookups at once, it's the time of the year every Snapper angler is waiting for, at times in the bays there are thousands of boats all trying to catch these Snapper.
A lot of people stop trying to catch Snapper after December, there is amazing fishing from January to April and it is knowing where these Snapper have moved to, we fish Port Phillip bay for Snapper in this period. We come into peak seasons for fishing with King George Whiting, Yellowtail King Fish, Gummy Sharks, Offshore shark and tuna trips, which we also run Charters for and this year the Blue Fin Tuna turned up in Bass Strait out the front of the heads from Western Port bay across Port Phillip Heads. To see these other trips, take a look at our website to see which charters we are running. Most people have moved away to catch these other species of fish. But these Snapper are waiting to be caught and we are happy to take you to them, they are so much fun to catch. Port Phillip Bay Fishing is great fun, especially in peak snapper season.
Fishing For Snapper – Out Of Season
Winter Snapper can be caught but they are a lot harder to fish for.
Thanks for reading our article, How To Catch Snapper – Pro Fishing Tips. We hope you enjoyed it.
Bookings can be made here: Bookings
Fishing data obtained from Victorian Fishing Authority
This article "How To Catch Snapper" was written by Malcolm May of I'm Hooked Fishing Charters